05marAll Day06A Referendum on Alberta's Future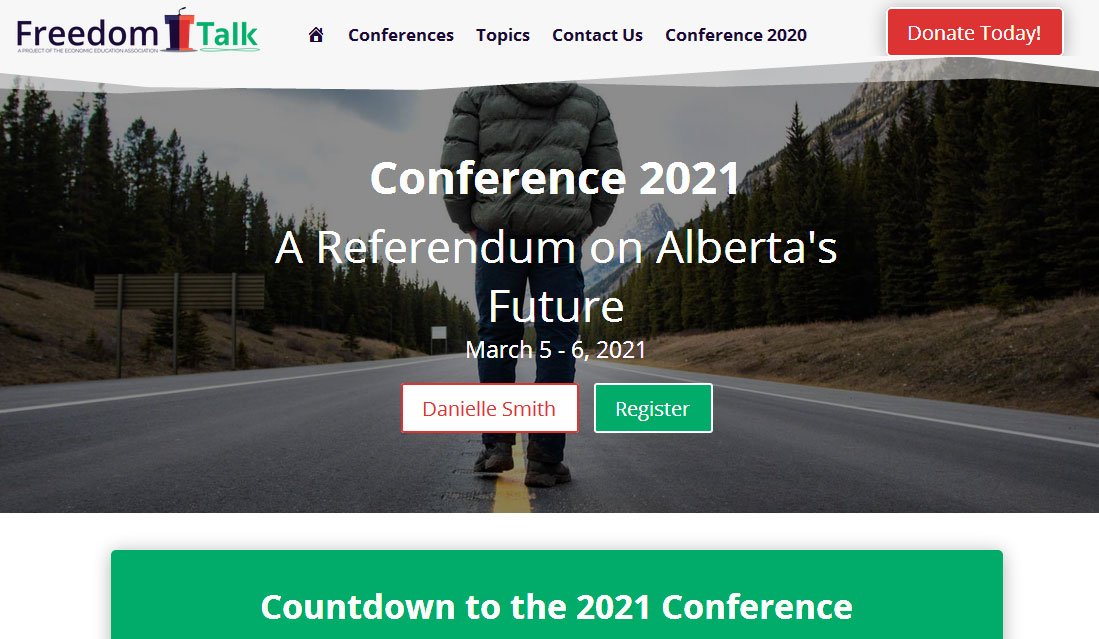 Event Details
Conference 2021
A Referendum on Alberta's Future
March 5 – 6, 2021
John Robson Discussing the Conference on the Danielle Smith Show
John Robson Discussing the Conference on the Danielle Smith Show
A Referendum on Equalization: PLUS!
Friends: It's that time again!
In 1904 Canada's Interior Minister, Clifford Sifton, said: "We desire, in fact every patriotic Canadian desires, that the great trade of the prairies shall go to enrich our own people in the east to build up our factories and our workshops of Eastern Canada and contribute in every legitimate way to its prosperity".
Sifton meant well. But he assumed Western interests would be subordinated to those of the East as the natural order of things. And Justin Trudeau's recent throne speech endorsed that view without even Sifton's "legitimate" nod to the idea that the relationship should be mutually beneficial.
What's more, it's the second time in many of our lifetimes that a federal government has staged a direct, calculated and concerted attack on our energy industries that threatens to destroy a generation of Albertans' accumulated wealth along with the hopes and dreams of hundreds of thousands of families, businesses and communities. And there is proverbially no education in the second kick of a mule.
So what can Albertans, and "every patriotic Canadian", do to fix this problem instead of just grumbling?
Well, Premier Jason Kenney has committed to having a referendum on equalization in conjunction with the municipal elections on Oct 18, 2021. And we at the Economic Education Association believe Albertans should insist on placing more than just one question on the fall ballot.
So we're hosting our ninth "Essentials of Freedom" conference on March 5-6 to discuss exactly what should be put before citizens in "A Referendum on Alberta's Future" in October.
If you've been at previous conferences, you know we've been out in front on issues from balanced budgets to climate change. And this year we're saying if we're going to the trouble of having a referendum, let's put some real questions on the ballot instead of just using it to kick the problem down the road and pretend everything's fine.
When we call for real questions and popular input, we mean it. We want to ask the questions you want to ask. We have some suggestions we invite you to come and discuss, in person or virtually, and vote on using the "Slido" app, and we want to hear your ideas too.
Our tentative list for the October 18 ballot includes:
Recall legislation
Citizens' initiative legislation
Balanced budget legislation
An Alberta Provincial Pension Plan
A Provincial Constitution
An Alberta Provincial Police Force to replace the RCMP in our province
If you have any questions to suggest/add to the list or to ask please email me at dhozack@gmail.com with EOFC in the subject line or call me at 780-808-0271.
Speaking of the popular will, we hope the provincial government will heed people's increasing demand to end the lock-downs, so we can meet in person. But we're determined to go ahead regardless, and will keep you posted as to the format. And since the good news, such as it is, is that no one's calendar is filling up with other commitments, please register NOW!
Registration for the virtual conference will be $50 per person. And if we can have a "live" component the seats will be allocated on a first-virtual-registration first-served basis so register NOW to hear yet another world-class group of speakers (see below) ready to "Go".
Dr. John Robson (Historian-Climate Discussion Nexus-EEA) "Ask and Ye May Receive"
Paul Hinman (Interim Leader, Wildrose Independence Party)
Maxime Bernier (Leader PPC) on "Radical Decentralization"
Josh Andrus (Project Confederation)
Franco Terrazzano (Canadian Taxpayers Association) "Equalization Project"
Dr. Roger Hodkinson (Western Medical Assessments) "Covid Discussion"
Michelle Sterling (Friends of Science)
Dr. Patrick Moore (Co-founder of Greenpeace) whose new book Fake Invisible Catastrophes and Threats of Doom is now available on Amazon so order today and keep him atop "New release" charts.
You can register by going to Freedom Talk | Fostering greater opportunity through economic education and constructive dialogue and donating $50 and putting EOFC in the comments section Or email transfer to dhozack@gmail.com and, again, put EOFC in the message section.
Thanks.
Danny Hozack
Time

march 5 (Friday) - 6 (Saturday)