17apr4:47 pm4:47 pmWALK for FREEDOM Canada Wide!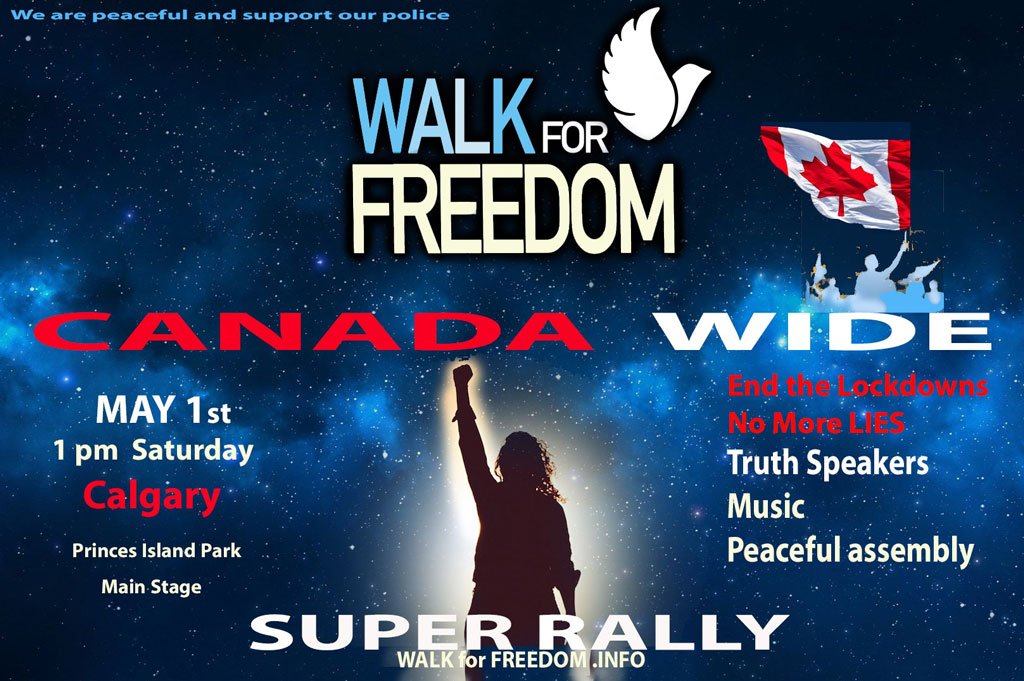 Event Details
Event Details
W sobote 1 maja odbedzie się kolejny co tygodniowy protest przeciwko noszeniu maseczek oraz ograniczeniom związanym z pandemią koronawirusa w Calgary.
Special Note:
WALK for FREEDOM 4 is PEOPLE coming together to give a voice to the fact OUR rights have been taken away by false science and fear MASKS setting the stage for forced Vaccines and isolation centres like what is slowly being implemented GLOBALLY …HAVE a VOICE / Its Our World!
Gdzie: Princes Island Park
Gdzina – 1 PM

What: Demonstrations every Saturday until the lockdowns end!!!
Signs will be provided for anyone who wishes to carry one.
Yet More Jason Kenney Lockdown Measures Announced
As some of you already know the province announced new and yet more draconian lockdown measures. Here is a summary:
Effective Sunday
Indoor and outdoor social gatherings are prohibited. People who live alone are limited to up to two close contacts for in-person visits.
Retail services and malls must reduce customer capacity to 15 per cent of fire code occupancy.
Restaurants, pubs and bars are closed to in-person service. Takeout, delivery and curbside pickup are allowed.
Hair salons, nail salons, casinos, bowling alleys, gyms, movie theatres, libraries and museums will be closed
Places of worship are limited to 15 per cent of fire code occupancy.
All employees are required to work from home unless their employer determines they need to be at work in person.
Effective Immediately:
Masks are now mandatory across the province in all indoor workplace and facilities outside the home.
It seems that our government simply will not be satisfied until they have devastated our economy and completely and utterly destroyed the livehihoods of Albertans.
Our organization will not give up this fight until this madness ends, nor will we as the founders comply with these restrictions.
Donations Needed
The last time we asked for donations was October. We realize that many of you are suffering financial hardships as a result of the lockdowns, and we are committed to running this organization on the tightest budget possible. However, due to the second round of lockdowns and the measures we are enacting to fight against them, we must once again ask for donations to continue this fight.
Please see below for our own upcoming demonstration plans. >>> https://endcalgarylockdown.com/

Recording of the presentation by Dr. Roger Hodkinson to Edmonton city Council

December 2020

DOLACZ i PODPISZ PETYCJE!
Time

(Saturday) 4:47 pm - 4:47 pm