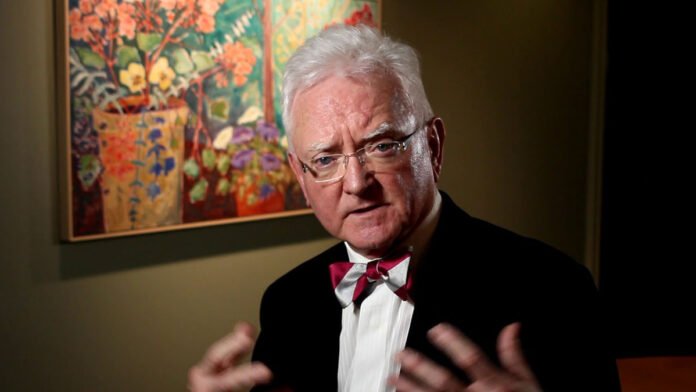 To jest oficjalne nagranie z formalnego spotkania w ratuszu miasta Edmonton w listopadzie 2020 w sprawie przedłużenia obowiązkowego regulaminu noszenia masek, który wygasa w mieście w grudniu.
" Zupełnie bezpodstawna histeria publiczna napędzana przez media i polityków "
ZOBACZ WIDEO >>
ALTERNATYWNIE jak zniknie znowu z youtube (CENZURA) zobacz >> tutaj lub na VIMEO >> tutaj
CALY METING w EDMONTON >>> ORGINALNE VIDEO: Council Chambers – City of Edmonton
https://www.edmonton.ca/city_government/documents/meetings/Item6.7.pdf
Community and Public Services Committee 11/13/2020
Dr Roger Hodkinson, przewodniczący komitetu Royal College of Physicians and Surgeons w Ottawie, dyrektor generalny dużego prywatnego laboratorium medycznego w Edmonton w Albercie i prezes firmy zajmującej się biotechnologią medyczną SPRZEDAWAJĄCY TEST NA COVID-19:
"Jest całkowicie bezpodstawna histeria publiczna napędzane przez media i polityków. To największe oszustwo, jakie kiedykolwiek popełniono na nieoczekiwanej publiczności. Absolutnie nic nie można zrobić, aby powstrzymać tego wirusa. To nic innego jak zły sezon grypowy. To polityka grająca medycynę i to bardzo niebezpieczna gra. Nie trzeba nic robić… Maski są zupełnie bezużyteczne. Nie ma żadnych dowodów na to, że są one nawet skuteczne.
To absurdalne widzieć tych nieszczęsnych, niewykształconych ludzi, którzy chodzą jak lemingi i wykonują posłuszeństwo bez żadnych dowodów.
Dystans społeczny również jest bezużyteczny… ..
Pozytywne wyniki testów NIE wskazują na infekcję kliniczną. To po prostu prowadzi do publicznej histerii i WSZYSTKIE testy powinny się natychmiast ZATRZYMAĆ….
Korzystając z własnych statystyk prowincji, ryzyko śmierci poniżej 65 roku życia wynosi 1 na 300,000 TYSIECY!. Skala reakcji jest po prostu absurdalna… wszelkiego rodzaju zamykania firm, samobójstwa…. jesteś prowadzony ścieżką w ogrodzie ".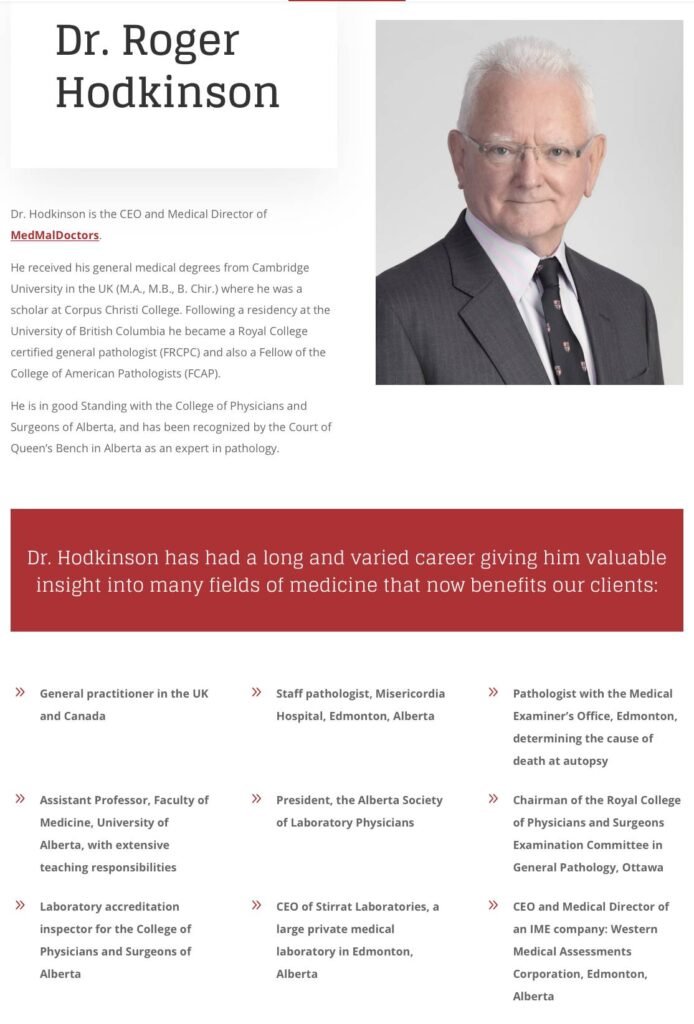 Całkowite zniszczenie naszych gospodarek było absolutnie konieczne, aby umożliwić im wprowadzenie Wielkiego Resetowania Dr Evila (Klaus Schwab).
Jedna z opinii zwyklych ludzi o tej histerii.
Leading Canadian Health Expert Outraged at Government Response to COVID During Edmonton, Alberta Council Teleconference: "I would remind you all that using the province's (Alberta) own statistics, the risk of death under 65 in this province is one in 300,000. One in 300,000. You've got to get a grip on this." Dr. Roger Hodkinson, MA, MB, FRCPC, FCAP, CEO and medical director of Western Medical Assessments, spoke at the Edmonton City Council Community and Public Services Committee meeting on Nov. 13 about the city's move to extend its face-covering bylaw. He was listed as speaker number 95 on the meeting agenda. Dr. Hodkinson was trained at Cambridge University. He is ex-President of the Pathology Section of the Alberta Medical Association.
Dr. Hodkinson is a Royal College certified pathologist in Canada (FRCPC). He has also been the following: Chairman of the Royal College of Physicians of Canada Examination Committee and Pathology in Ottawa, Canada, Staff Pathologist at the Misericordia Hospital, Edmonton, Alberta, Pathologist with the Medical Examiner's Office in Edmonton determining the cause of death, Assistant Professor in the Faculty of Medicine at the University of Alberta, President of the Alberta Society of Laboratory Physicians & CEO of a large private medical laboratory in Edmonton, Alberta. Dr. Hodkinson was previously named CTV Citizen Of The Year for the City of Edmonton.
Here's the transcript of Hodkinson's testimony: This is Dr. Hodkinson, I just wanted to let you know I'm standing by…. Thank you very much. I do appreciate the opportunity to address you on this very important matter. What I'm going to say is lay language, and blunt. It is counter-narrative, and so you don't immediately think I'm a quack, I'm going to briefly outline my credentials so that you can understand where I'm coming from in terms of knowledge base in all of this.
I'm a medical specialist in pathology which includes virology. I trained at Cambridge University in the UK. I'm the ex-president of the pathology section of the Medical Association. I was previously an assistant professor in the Faculty of Medicine doing a lot of teaching. I was the chairman of the Royal College of Physicians of Canada Examination Committee and Pathology in Ottawa, but more to the point I'm currently the chairman of a biotechnology company in North Carolina selling the COVID-19 test.And [inaudible] you might say I know a little bit about all of this. The bottom line is simply this: There is utterly unfounded public hysteria driven by the media and politicians. It's outrageous. This is the greatest hoax ever perpetrated on an unsuspecting public.
There is absolutely nothing that can be done to contain this virus. Other than protecting older, more vulnerable people. It should be thought of as nothing more than a bad flu season. This is not Ebola. It's not SARS. It's politics playing medicine and that's a very dangerous game. There is no action of any kind needed other than what happened last year when we felt unwell. We stayed home, we took chicken noodle soup, we didn't visit granny and we decided when we would return to work. We didn't need anyone to tell us.
Masks are utterly useless. There is no evidence base for their effectiveness whatsoever. Paper masks and fabric masks are simply virtue-signaling. They're not even worn effectively most of the time. It's utterly ridiculous. Seeing these unfortunate, uneducated people — I'm not saying that in a pejorative sense — seeing these people walking around like lemmings, obeying without any knowledge base, to put the mask on their face.
Social distancing is also useless because COVID is spread by aerosols which travel 30 meters or so before landing. Enclosures have had such terrible unintended consequences. Everywhere should be opened tomorrow as well as was stated in the Great Barrington Declaration that I circulated prior to this meeting. And a word on testing: I do want to emphasize that I'm in the business of testing for COVID. I do want to emphasize that positive test results do not, underlined in neon, mean a clinical infection. It's simply driving public hysteria and all testing should stop. Unless you're presenting to the hospital with some respiratory problem. All that should be done is to protect the vulnerable and to give them all in the nursing homes that are under your control, give them all 3,000 to 5,000 international units of vitamin D every day which has been shown to radically reduce the likelihood of Infection.
And I would remind you all that using the province's own statistics, the risk of death under 65 in this province is one in 300,000. One in 300,000. You've got to get a grip on this. The scale of the response that you are undertaking with no evidence for it is utterly ridiculous given the consequences of acting in a way that you're proposing. All kinds of suicides, business closures, funerals, weddings etc. It's simply outrageous! It's just another bad flu and you've got to get your minds around that.
Let people make their own decisions. You should be totally out of the business of medicine. You're being led down the garden path by the chief medical officer of health for this province. I am absolutely outraged that this has reached this level. It should all stop tomorrow. Thank you very much."
https://childrenshealthdefense.org
The Deleter – napisal 2 dni temu
"Nigdy nie nosiłem maski. Nie lubię trąbić we własną trąbkę, ale od razu wiedziałem, że rządy na całym świecie planowały coś niezwykle złowrogiego, kiedy nas zamknęły. Mam 55 lat i jestem na tyle mądry, żeby wiedzieć, kiedy ktoś mnie okłamuje.
Te dranie zamknęły nas na fałszywych pozorach – pomyśl tylko o wyroku – przez ostatnie 8 miesięcy byliśmy traktowani jak cholerni więźniowie. Osiem miesięcy naszego życia, których nigdy, przenigdy nie odzyskamy.
Ludzie tracą i nadal tracą środki do życia. Ludzie popełniają samobójstwa. Ludzie umierają i nadal umierają, ponieważ nie mogli uzyskać leczenia, jakiego wymagali w przypadku poważnych chorób.
Podstępnie nakazali nam nie odwiedzać ani spotykać się z naszymi przyjaciółmi i rodziną. Stałem się tak zmęczony i przygnębiony, gdy szedłem na zakupy zdemaskowany i widząc, jak wszyscy w swoich maskach zombie zachowują się jak wariaci, jeśli zbliżyłem się do nich, przestałem chodzić na zakupy i zostawiłem to mojej drugiej połowie, aby dostać nasze artykuły spożywcze.
Na litość boską ludzie, musicie przestać się podporządkowywać, sikają i poniżają Ciebie i Twoich bliskich. To jak zła globalna gra Simon Says, a te dranie nie przestaną, gdy zobaczą, jak masy nadal się dostosowują. Innym lekarzem, który się wypowiedział, jest Mike Yeadon. Sprawdź go na Twitterze i wyślij jego filmy do wszystkich, których znasz. "
Pandemic At Center of Globalist & Psychological Warfare Against Freedom
Wiesz, kto jeszcze używał polityki, żeby grać w medycynę? Naziści i komuniści. Frakcje totalitarne wspólnie pchają ten sham, aby zniszczyć nasz styl życia.

Communism comes with the removal of the main 4 pillars
faith/religion
family unit
education
health
Open your eyes and you will notice the government's actions targeting these.
UPDATE 29 LISTOPAD 2020
Dr Roger Hodkinson interview with Anna Brees (A Summary)
The full interview is at VIMEO HERE
Anna Brees link – HERE
(MUST-READ/SHARE)
If you're reading this, you are the resistance
Koniecznie udostepnij ten artykul u siebie na PARLER, Facebooku! Wielu Twoich znajomych na pewno bedzie zadowolonych z tak waznych informacji!
It's no surprise that Canadians don't trust a biased news media. (please don't trust anyone else's opinions – only your own opinion – based on your research).
We need to start sharing our media sources with eachother. Our strength is in knowing we're the majority despite what the MSM tell us.
Make sure to share your network with others Spread the word!
Byles? Widziales? Podziel sie tym!